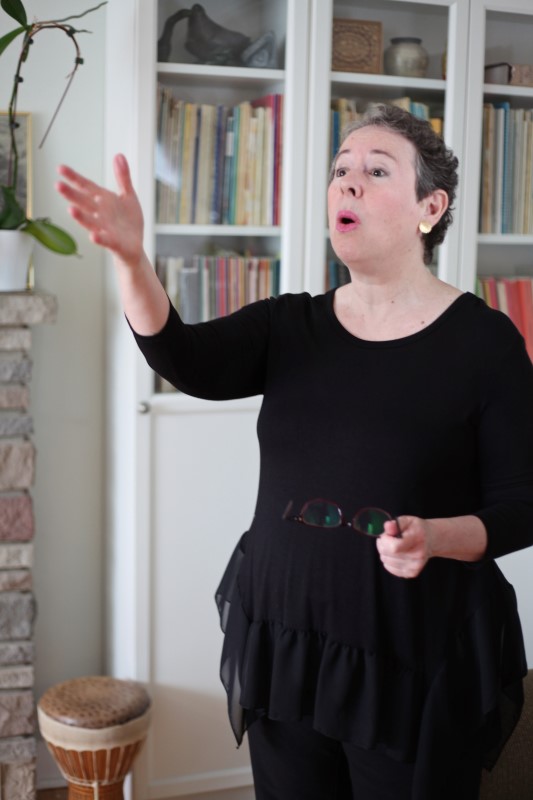 Biography
Educator:
Kathryn Palmer studied vocal pedagogy with Donald Bell, and began teaching voice while completing her Bachelor of Music degree at Carleton University. She spent the first year of her Master of Music degree as a music Education specialist, studying Kodaly pedagogy under Lois Choksy.  She has taught virtually every level, from setting up Nursery School and Kindergarten music programmes at Hillel Academy, to Musical Theatre (singing) classes at the Ottawa School of Speech and Drama (OSSD) for children and adults, to music students at Carleton and the University of Calgary. Since opening her Ottawa studio in 1990, she has focused on older children, teens, and adults.

Ms. Palmer has been an adjudicator for the National Association of Teachers of Singing (NATS), and has juried vocal exams and recitals for University of Ottawa and Canterbury High School. She has also given Master classes and worked with choirs as a guest vocal coach. She was Vocal Coach and Assistant Music Director for Tamir's production of Joseph and the Technicolor Dreamcoat, which integrated professionals, amatures, and adults with developmental delays.

For over 25 years, her students have consistently taken top honours in Royal Conservatory of Music exams and Kiwanis Music Festival, and have garnered leading roles in musical productions. Many have become successful professional musicians and recording artists in all styles - Classical, Jazz, Folk, Pop, and Musical Theatre. Former student Kellylee Evans won a Juno award for Vocal Jazz Album of the year; and in 2018 Michaela Foster Marsh sang for Queen Elizabeth.
Her philosophy of education is very inclusive. Students are not accepted on the basis of talent, but rather on interest and desire:
"Anyone can sing. Everyone can improve their voice.
My greatest joy is helping students find the voice within.
Together we will uncover the vocal beauty that is uniquely yours."
                                                                                    Kathryn Palmer

Singer:
Soprano Kathryn Palmer grew up in Ottawa where she studied singing and piano from an early age, and participated in classical choirs as well as musical theatre. She continued her music education at Carleton University, obtaining a Bachelor of Music (majoring in voice and composition) and went on to complete a Master of Music degree in Vocal Performance at the University of Calgary. A scholarship then brought her to Milan, Italy where she studied with La Scala's renowned mezzo Giulietta Simionato for two years.

After returning to Canada in 1988, Ms. Palmer became well known to Ottawa audiences through her solo appearances with Cantata Singers, the Ottawa Choral Society, the Canadian Centennial Choir, and the Ottawa International Chamber Music Festival (now called Chamberfest). She has also sung with numerous Canadian orchestras, and has been frequently heard on CBC radio with Thirteen Strings, the Cathedral Consort, with whom she recorded an all-Bach CD, and with Baroque Soiree and Ensemble Zafiro - two ensembles she founded with members of the National Arts Centre Orchestra.

Other interests:
Kathryn Palmer is also a composer, arranger, poet, and published journalist. Pursuing a lifelong interest in nutrition and complementary medicine, she graduated in 2008 as a Registered Holistic Nutritionist.